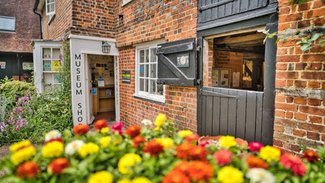 Mill & Museum General Admission
Learn more about the history of our mill and the River Lea.
See some of the tools Millers and Bakers use to turn grain into flour and then bread. Explore the rich history of mills in Hertfordshire through our timeline and River Lea map.Get interactive with our cog wall and recreate the gears that make the mill work.
Giving a Home to History
Our extensive collection of objects, photographs, artwork, archives and archaeology all relates to the people who have lived, worked and played in Welwyn Hatfield across the years. We are home to the works of famous local artists, including  illustrators Eileen and George Soper and a purchase of 150 caricatures and cartoons of Welwyn Garden City personalities in the 1930's and 1940's, captured by Cyril Hards. We also have material that represents local employers throughout the years, such as Cresta Silks and de Havilland.
The collection also includes building implements, agricultural hand tools and milling equipment. Domestic life is represented by furniture dating from 1870-1960, laundry and cooking utensils, children's toys and family hobbies. Social and community life, local government, royalty, schools, churches and civilian life in wartime are also represented.
You can see a small selection of objects from our collection on the Art UK website, which includes oil paintings and sculptures.